Mohamed in the kitchen of his restaurant at its beginnings
The United Nations say around 6.8 million of Syrians have fled the civil war since it began in 2011. Most found refuge in neighboring countries, like Turkey, Lebanon, Jordan, Iraq and Egypt. But some others preferred to travel as far as Morocco.
Although this North African country remains mostly a transit country for refugees and migrants, it is increasingly becoming a country of destination. It has been working to offer protection to refugees under its National Policy on Immigration and Asylum, which was launched in September 2013 under the instructions of the Moroccan King, Mohammed VI.
At that time, according to the United Nations Refugee Agency (UNHCR), refugees in Morocco originated from 38 countries, with some 59% from the Syrian Arab Republic.
The journey from Syria to Morocco
Mohamed Ettot, 42 years old, was one of these Syrian refugees. He fled the Syrian civil war with his family in 2013. "We came to Morocco in 2013 by chance. Honestly we didn't expect to enter Morocco successfully" said Mohamed.
Escaping the bloodshed, the war scenes, the persecution, and the violence they witnessed in their country of origin, Mohamed and his family members found themselves in Morocco, after a long and dangerous journey. "In July 2013, the atrocity of the battles in Syria forced us to escape Damascus to Lebanon. From Lebanon we flied to Algeria, after that we were smuggled to Morocco through the closed border with Algeria" added Mohamed.
Getting the residency after "Morocco's regularization"
Many Syrians have benefited from Morocco's regularization program, which was enacted in 2013 and finished an appeals process at the end of 2015. Morocco implemented refugee regularization process program that allowed migrants to apply for residency. Between September 2013 to December 2015, 17,961 migrants benefited from the program, including 5,250 Syrians.
When Mohamed arrived in Morocco, the United Nations Human Rights Commission (UNHCR) helped him and his family to obtain refugee status. One year later, they got the Moroccan residency. "Once in Morocco, we went for the UNHCR seeking the refugee statute" said Mohamed. "In 2014, we got the residency thanks to a royal settlement. We received help from the Moroccan authorities that facilitated the process of getting the residency, which allowed us to stay and work in Morocco" he said.
From a cook to a restaurant owner
In the beginning, he worked in a very small restaurant as a cook. Later he worked even harder, took out loans and received help from UNHCR to open his own Syrian restaurant.
"Before, I worked in a Syrian restaurant, then I observed that Moroccans are interested in Syrian food. So I thought about starting a small business" said Mohamed. "The Moroccan residency allowed me to open a bank account and rent a place for the restaurant" he added.
Now, Mohamed is the owner of two famous Syrian restaurants called "Abtal Acham". One in Agdal, one of the top neighborhoods in Rabat, the capital of Morocco, and the other one in the downtown of the same city. "At first, I used to sell only shawarma and some Syrian appetizers. It was a successful idea, then I grew the business up, from one restaurant into two restaurants" said Mohamed.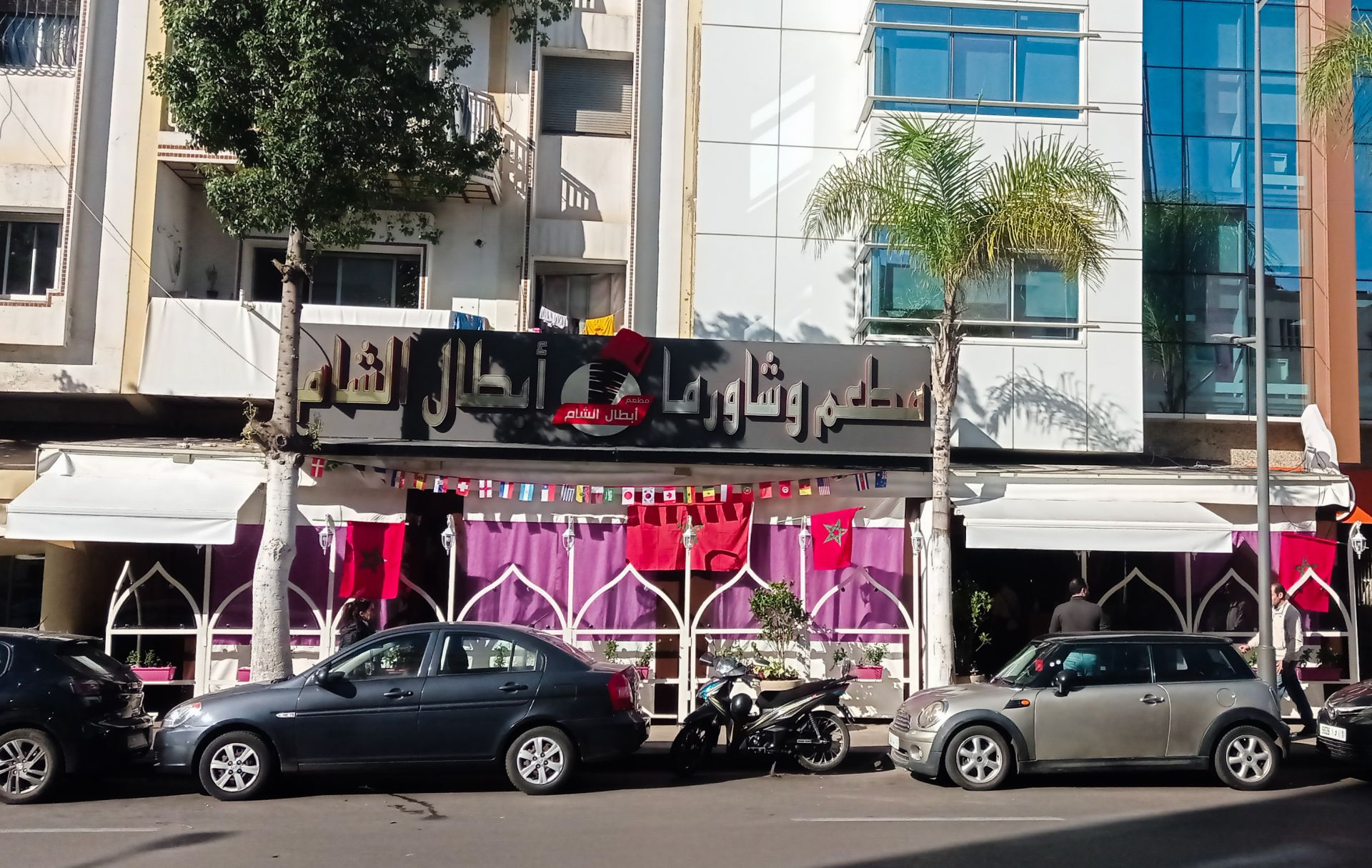 Mohamed's restaurant, which is located in the Agdal neighbourhood
Overcoming the difficulties to reach success
Mohamed started his business with a capital of approximately 30.000 USD, with 1.000 USD as a financial aid from the UNHCR. "The UNHCR supported the business at the beginning with approximately 4 per cent of its total cost. The rest came from loans and savings" he added.
Opening a restaurant in a place other than one's homeland, with limited financial resources, was not that easy for Mohamed. "Finding a good place to open the restaurant, collecting the business' capital and finding the restaurant staff who have a knowledge of Syrian gastronomy, were some of the difficulties that I faced at the beginning" he said.
After the great success of his first restaurant, located in Agdal neighborhood, Mohamed decided to open another restaurant in the downtown of Rabat.
"The business grew up after the enormous demand on shawarma, with which we started. After that, I decided to add new Middle eastern dishes to the menu. So I expanded the restaurant's area through buying a neighboring restaurant. Within time, I opened another restaurant in the downtown of Rabat" said Mohamed.
With a national unemployment rate of around 11 per cent, the Moroccan government is keen to create new jobs. Mohamed's story proves that migrants and refugees can make a positive contribution to the job market by creating small enterprises that employ the local population alongside foreigners. "Currently, I have approximately a hundred employees, in total, from different nationalities. Including Moroccans, Palestinians, Yemenis…" added Mohamed.
Now famous, Mohamed's two restaurants feature unique Syrian cuisine and special decor that combines Syrian and Moroccan culture, and offer a Levantine atmosphere. "When I came to Morocco, I wanted to work and invest, and fortunately I succeeded in that" he concluded.
Soufine El-Hamry
Journalist freelancer
Soufine is a journalist freelancer, graduate of the Higher Institute of Information and Communication (ISIC-Rabat). Currently, he studies in a Master of Political and Social Communication at the same Institute. He had the opportunity to intern in different media companies, and to partake in many trainings and workshops related to journalism.
Soufine is also a social activist, highly motivated to work on topics related to Human rights, Minorities, Migration, Public health, Environment and Peace promotion. He believes that "change is a matter of awareness".